YOUR COMPACT DUAL BATTERY SOLUTION!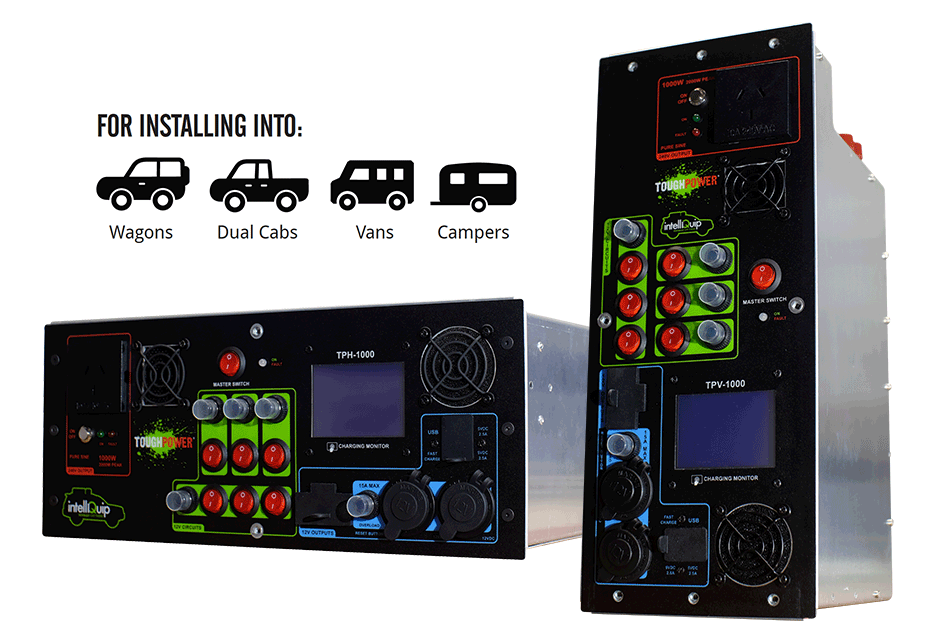 The ToughPower's Panel Mount system is your dual battery management system - perfect for any vehicle setups, or trailer and camper power setups. With battery protection against over voltage and low voltage, full electronic protection to all your outlets, and a start-of-the-art built-in power management system - you'll have everything you need to run your fridges, water pumps, solar panels, tools, appliances, lighting or anything else you might need while you're on the road!

Perfect for running your...
WHAT SETS THE TOUGHPOWER APART?
BRACKET MOUNTING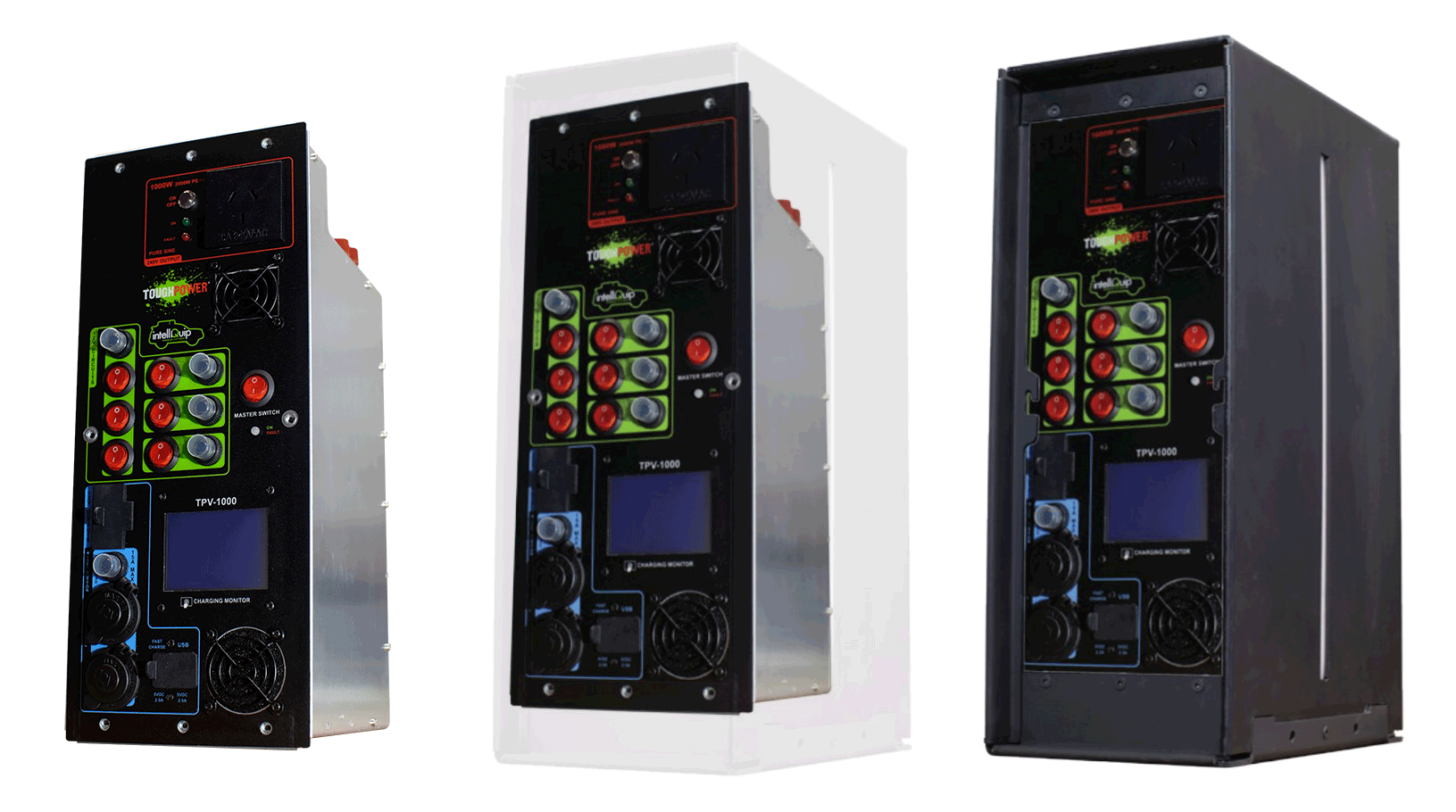 These Bracket Mounting Kits have been engineered for maximum durability and ease-of-assembly.
An optional add-on to make the installation of your Dual-Battery Controller a breeze, while giving it the durability and protection to last a lifetime. The bracket fits both the horizontal and the vertical model, and provides space for wiring and ventilation.
Ideal for installing into a dual cab tray or back of a wagon.
Charging AND OUTLETS
CHARGING INPUT
240V AC-DC Charger
MPPT Solar Nominal 12V Solar Panel
Vehicle via Battery (Alternator), and DC-DC charger
POWER OUTLETS
1000W Pure Sine Wave Inverter 240V (2000W Peak)
50A 12V Anderson (front)
2x 12V CIG Socket (front)
2x Independent 2.5Amp USB
6x Switched Circuits

3x Independent 15A C/B
3x Shared 15A C/B
SPECIFICATIONS
Both Horizontal and Vertical Models
Lead Acid, AGM, Calcium, GEL, Lithium (LiFePO4) battery types
Concealed Key Switch battery type selection
Advanced and easy to use touch screen Battery Monitor
MAINS AC-DC Mains Battery Charger - Built-in
Input: 100-240VAC 50/60Hz 2A / Output: 12VDC 10A
CAR Input: 8-16VDC 10A DC-DC Battery Charger - Built-in
SOLAR MPPT Controller (10A) - Built-in
All 12V Nominal Solar Panels (Max Voc = 25V)
Dual Battery Bypass Controller + Battery Isolator
6x Switched 12V Protected Output Circuits
Pure Sine Wave Inverter 1000W Continuous Power, 2000W Peak
Mains Charging 1m Kettle Cord Accessory Lead
External Dimensions: 200mm x 155mm x 370mm (L x W x H)
Operating Temperature: 0 - 50°C
Weight: TPV-1000 5kg, TPH-1000 5kg
Battery not included
Bracket Mounting Kit
Cross compatible between horizontal and vertical models
External Dimensions: 274mm x 164mm x 419mm (L x W x H)
AU Prov Pat Appln No 2017903530
More Information
Information provided in the links below cover all models of the ToughPower Dual-Battery Controller.
Where TO Buy
FAQs
User Manual
Wiring Diagrams
Case Mounting