The Portable Battery BOX done right.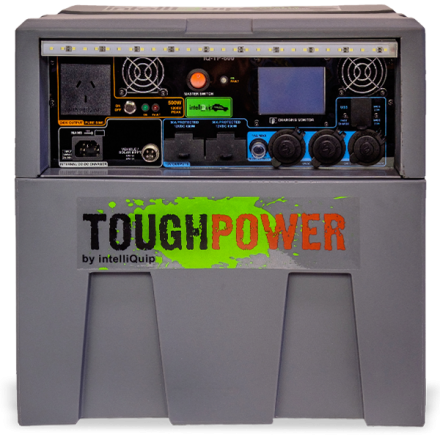 After years of development and testing we are proud to present to you the most advanced portable battery system on the market. By comparing similar products and listening to what you wanted, we've developed a product with a seamless experience so that you can take the comforts of home wherever you go.
The TP-600 is the entry level model, but still surpasses the competition. Its features include built-in Mains Charger, built-in DC-DC Charger, MPPT Controller, 500 Watt Pure Sine Wave Inverter with a 1200 Watt peak power, LCD Touch-screen, multi-chemistry lead-acid battery compatibility, Full Battery Protection - high Temperature & high Voltage, and Automatic Low Voltage Shutdown & Recovery.
Features at a glance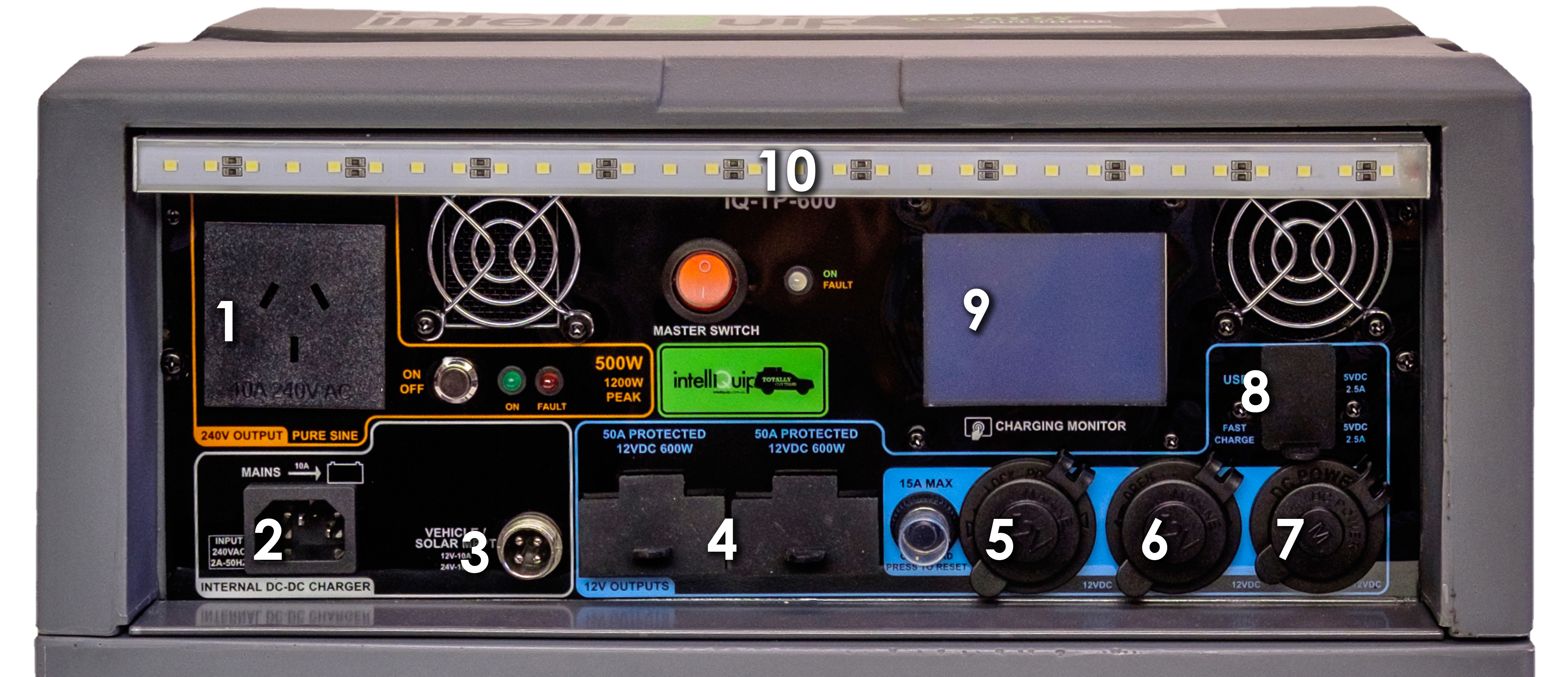 1 - 500W Pure Sine Wave Inverter (with 1200W peak power)
2 - 240V Mains Input for charging your ToughPower
3 - 4-Pin Shared Input for charging via car CIG socket or 12V nominal Solar Panels
4 - 2 x High Current 50Amp 12VDC Anderson Output
5 - 15amp 12VDC CIG Socket Output
6 - 15amp 12VDC Engel Socket Output
7 - 15amp 12VDC Merit Socket Output
8 - 2 x Independent fast-charging USB ports
9 - LCD touch-screen interface
10 - LED light strip
The electronics inside the lid
MPPT Controller
Any 12V nominal Solar Panel - Regulated or Unregulated can be connected to the ToughPower. The ToughPower automatically senses unregulated Solar Power and switches on the internal MPPT Controller.

AC-DC 10A Mains Charger
A powerful 10Amp Mains Charger is fully integrated into the internal electronics. This means the battery can be fully charged in less than one night!

10A Multi-Stage DC-DC Charger
The ToughPower can be charged using the provided Accessory cable attached to the CIG Socket of your car. With an integrated DC-DC Charger inside the lid, the ToughPower will regulate the current ensuring that no more then 10 Amps is drawn.

Low Voltage Shutdown and Recovery Technology
When the battery voltage is low the Power Outlets are automatically SHUTOFF to isolate & protect the battery from damage AND the Charging Inputs remain OPEN to accept charging power as soon as it becomes available (eg starting the Car or the sun touching the Solar Panels). No annoying alarms in the middle of the night, and a hands free recovery if you have a Solar Panel attached.
Full Electronic Battery Protection
The ToughPower includes over temperature protection, over voltage protection, and low voltage protection during both charging and usage via the integrated electronics inside the Lid. The LCD screen displays alerts when an over temperature or low voltage condition occurs.
Where to buy
Click here to see the retailers stocking the ToughPower, and follow us on Facebook to be alerted when new retailers are stocking the ToughPower!
If you're a retailer and looking to stock our products, contact us and we can discuss your needs.
More Information
To view more in depth information, click a link below or view the brochure.
Charging
Outlets
LCD Screen
Safety
FAQs
ToughPower